Pediatric computed tomography in Kharkiv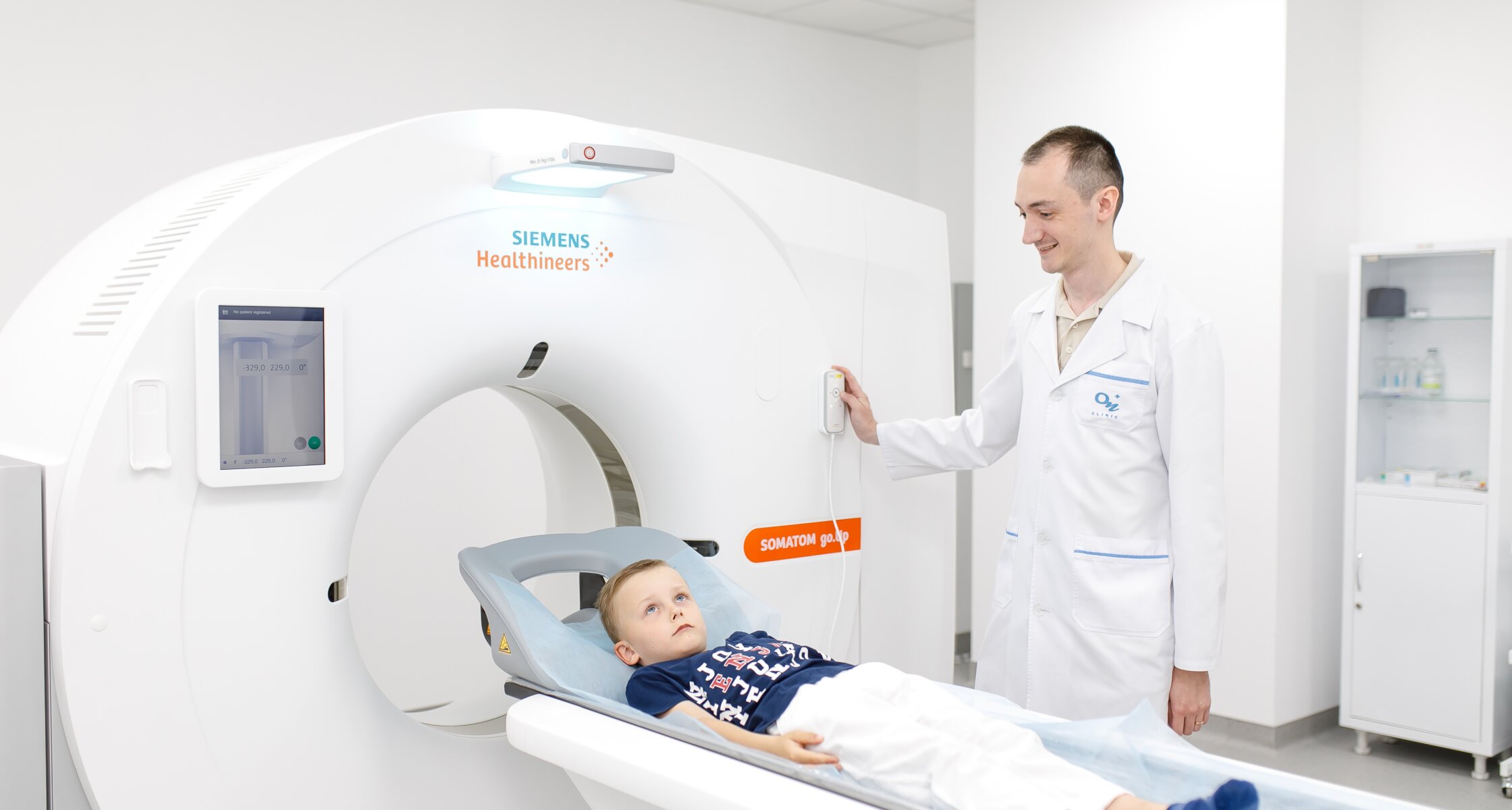 Computed tomography is an informative method for diagnosing internal organs and systems using roentgen radiation.
CT scan for children has its own characteristics.
How is computed tomography performed for children
Computed tomography for children is performed in a special diagnostic room. The child lies down on the conveyor table. If intravenous contrast CT is performed, the child is given an intravenous contrast agent. During the examination, the table is moved in different directions for the most complete view of the part of the body that is being diagnosed. For a while, the child may be asked to hold his/her breath or not to swallow.
Children who can lie quietly during the examination are appointed for CT from 5-6 years old. If the child needs sedation (medication sleep) for the tomography, the appointment is carried out only from the age of 14. A CT scan for a child under 18 is done in the presence of a parent or guardian.
Preparation of children for computed tomography
Children under 13 years old do not need special preparation for CT. Children over 14 years old are prepared for tomography in the same way as adults. Regardless of which organ will be diagnosed, 2-4 hours before the computed tomography, it is necessary to refrain from eating and drinking.
When examining the organs of the abdominal cavity and small pelvis one day before it is necessary to exclude foods that contribute to the gas formation (carbonated drinks, legumes, sweets, vegetables).
Immediately before the examination, it is necessary to remove all metal objects (hairpins, watches, jewelry). The mobile phone should be given to the adult accompanying the child, as its radiation can distort the CT data.
Appointment and reception around the clock!
| | |
| --- | --- |
| Название | Цена |
| LDCT OGK (low-dose computed tomography of the chest) | 750 uah |
| CT OGK (chest organs, mediastinum, angio-mode) with contrast | 2200 uah |
| CT OGK, BP, OMT (chest, abdominal, pelvic organs) | 2350 uah |
| CT OGK (chest organs) | 1000 uah |
| CT scan of the brain | 1000 uah |
| CT scan of the paranasal sinuses | 1000 uah |
| CT of the temporal bones (middle, inner ear, mastoid) | 1000 uah |
| CT scan of the brain + paranasal sinuses | 1250 uah |
| CT of paranasal sinuses + temporal bones | 1250 uah |
| CT of the brain + paranasal sinuses + temporal bones | 1500 uah |
| CT of the maxillofacial region (orbits, facial skeleton) | 1200 uah |
| Spine assessment | 550 uah |
| CT of the sacroiliac joints | 1000 uah |
| CT of the adrenal glands with contrast | 2900 uah |
| CT of the head (nasopharynx, base of the skull, orbit, sinuses, bones of the skull, brain) with contrast | 2400 uah |
| CT of the neck / CT of the larynx (oropharynx, tongue, larynx, salivary glands) with contrast | 3200 uah |
| CT of the neck / CT of the larynx + chest organs with contrast | 3350 uah |
| CT head + neck / larynx with contrast | 2950 uah |
| CT angiography of the vessels of one area: the brain, neck, thoracic aorta, abdominal aorta, renal vessels, mesenteric vessels, liver vessels with contrast | 2200 uah |
| CT angiography of the pulmonary arteries (PE) with contrast | 2200 uah |
| CT angiography of the ascending thoracic aorta, aortic root with contrast | 2200 uah |
| CT pulmonary angiography (PE) + thoracic / abdominal aorta angiography with contrast | 3250 uah |
| Bowel preparation for examination | 600 uah |
| CT of the brain (angiography) with contrast | 2200 uah |
| CT scan of the neck organs (neck vessels, angiography) with contrast | 2200 uah |
| CT of the temporal bone pyramids | 1000 uah |
| CT of the cervical spine | 1000 uah |
| CT of the thoracic spine | 1000 uah |
| CT scan of the lumbar spine | 1000 uah |
| CT of the sacrum | 1000 uah |
| CT scan of the coccyx | 1000 uah |
| CT scan of the pelvis | 1000 uah |
| CT of the shoulder joint (1 joint) | 1000 uah |
| CT of the shoulder joints (2 joints) | 1650 uah |
| CT scan of the elbow (1 joint) | 1000 uah |
| CT of elbow joints (2 joints) | 1650 uah |
| CT of the wrist joint (1 joint) | 1000 uah |
| CT of the wrist joints (2 joints) | 1650 uah |
| Knee CT scan (1 joint) | 1000 uah |
| CT of knee joints (2 joints) | 1650 uah |
| CT scan of the ankle (1 joint) | 1000 uah |
| CT scan of the ankle joints (2 joints) | 1650 uah |
| CT of the hip joint (1 joint) | 1000 uah |
| CT of the hip joints (2 joints) | 1650 uah |
| CT OGK, BP, OMT (chest, abdominal, pelvic organs) with contrast | 3550 uah |
| CT OBP, MT (abdominal organs, pelvic organs) | 1250 uah |
| CT OBP, MT (abdominal organs, pelvic organs, adrenal glands) with contrast | 2950 uah |
| Whole body CT (brain, neck, chest, abdomen, pelvic organs) | 2850 uah |
| Whole body CT (brain, neck, chest, abdomen, pelvic organs) with contrast | 4000 uah |
| CT scan of one of the limb segments | 1450 uah |
| CT scan of one of the limb segments with contrast | 2650 uah |
| Radiology doctor's consultation (second opinion) | 1000 uah |
| CT of the urinary system (kidney, ureter) | 1000 uah |
| CT of the urinary system (kidney, ureter) with contrast | 2200 uah |
The cost of doctor ct scan appointments in Kharkiv