Computed tomography in Dnipro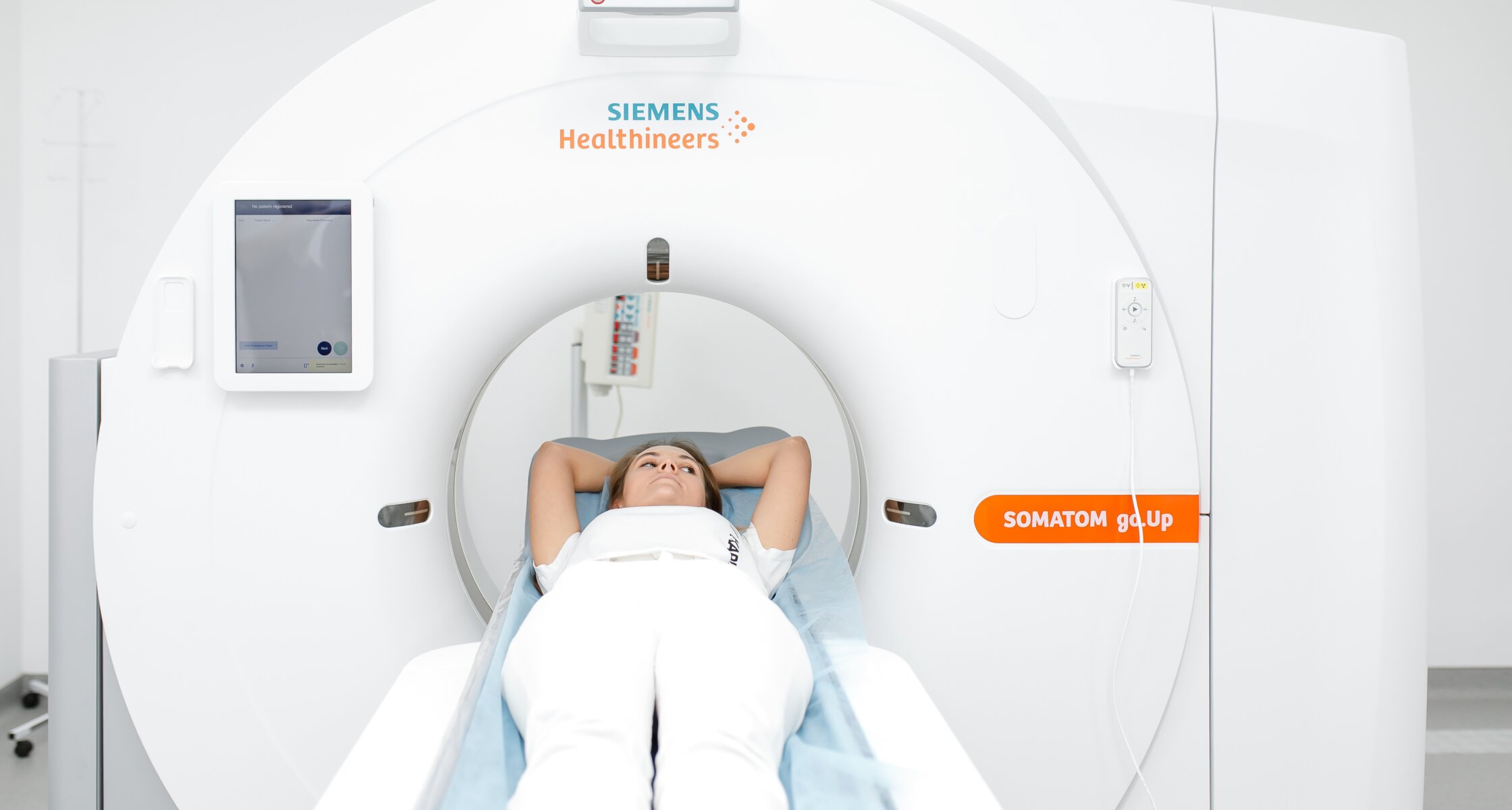 Computed tomography (CT) is a method of diagnosing the body that uses a micro-dose of X-rays.
CT imaging shows changes in the structure of internal organs, bones, blood vessels and soft tissues. A CT takes, on average, 15 to 30 minutes.
Advantages of computed tomography
"ON Clinic Dnipro" carries out computed tomography using a computed tomography machine SOMATOM go.Up. The advantages of performing CT with SOMATOM go.Up apparatus include the following:
low radiation exposure;
scanning, which reduces the need for repeated examinations;
high quality angiography (X-ray examination of blood vessels).
Preparation for computed tomography
Before CT, it is necessary to provide the radiologist with the necessary clinical information, including the data of previous examinations and the contact details of the doctor who issued the referral for diagnostics. It is recommended to wear loose clothing for examination without metal items and inserts.
Before CT of thoracic organs, it is necessary to take off chains from the neck and piercing from the chest area. Before examination with intravenous contrast agent administration, food should not be taken 2 hours before the examination, and in case of colonography - 4 hours before the examination.
When examining the abdominal organs and small pelvis, you should drink 1-1.5 liters of still water in portions within 1-1.5 hours before the CT. When examining bones, soft tissues, spine, head, neck, and thoracic cavity, special preparation for CT is usually not required.
To make appointment for a consultation by X-ray diagnostics and computed tomography specialist in Dnipro, call the phone numbers indicated on the website or fill out the online appointment form. You can make appointment for CT around the clock.
| | |
| --- | --- |
| Название | Цена |
| CT angiography of the ascending thoracic aorta, aortic root with contrast | 2850 uah |
| CT angiography of the pulmonary arteries (PE) with contrast | 2370 uah |
| CT angiography of the vessels of one area: the brain, neck, thoracic aorta, abdominal aorta, renal vessels, mesenteric vessels, liver vessels with contrast | 2750 uah |
| CT colonography | 3100 uah |
| CT colonography with contrast | 4150 uah |
| CT head + neck / larynx with contrast | 3100 uah |
| CT OBP, MT (abdominal organs, pelvic organs) | 1950 uah |
| CT OBP, MT (abdominal organs, pelvic organs, adrenal glands) with contrast | 3200 uah |
| CT of elbow joints (2 joints) | 1900 uah |
| CT of knee joints (2 joints) | 1900 uah |
| CT of paranasal sinuses + temporal bones | 1300 uah |
| CT of the ABO (abdominal organs) with contrast | 2060 uah |
| CT of the adrenal glands with contrast | 1900 uah |
| CT of the brain + paranasal sinuses + temporal bones | 2150 uah |
| CT of the cervical spine | 1040 uah |
| CT of the head (nasopharynx, base of the skull, orbit, sinuses, bones of the skull, brain) with contrast | 2200 uah |
| CT of the hip joint (1 joint) | 1040 uah |
| CT of the hip joints (2 joints) | 1900 uah |
| CT of the maxillofacial region (orbits, facial skeleton) | 1040 uah |
| CT of the neck / CT of the larynx (oropharynx, tongue, larynx, salivary glands) with contrast | 2200 uah |
| CT of the neck / CT of the larynx + chest organs with contrast | 3150 uah |
| CT of the sacroiliac joints | 1040 uah |
| CT of the sacrum | 1040 uah |
| CT of the shoulder joint (1 joint) | 1040 uah |
| CT of the shoulder joints (2 joints) | 1900 uah |
| CT of the temporal bone pyramids | 1040 uah |
| CT of the temporal bones (middle, inner ear, mastoid) | 990 uah |
| CT of the thoracic spine | 1040 uah |
| CT of the urinary system (kidney, ureter) with contrast | 2650 uah |
| CT of the wrist joint (1 joint) | 1040 uah |
| CT of the wrist joints (2 joints) | 1900 uah |
| CT OGK (chest organs) | 1250 uah |
| CT OGK (chest organs, mediastinum, angio-mode) with contrast | 2400 uah |
| CT OGK, BP, OMT (chest, abdominal, pelvic organs) | 2900 uah |
| CT OGK, BP, OMT (chest, abdominal, pelvic organs) with contrast | 4050 uah |
| CT pulmonary angiography (PE) + thoracic / abdominal aorta angiography with contrast | 3250 uah |
| CT scan of one of the limb segments | 1040 uah |
| CT scan of one of the limb segments with contrast | 2200 uah |
| CT scan of the ankle (1 joint) | 1040 uah |
| CT scan of the ankle joints (2 joints) | 1900 uah |
| CT scan of the brain | 1040 uah |
| CT scan of the brain + paranasal sinuses | 1250 uah |
| CT scan of the coccyx | 1040 uah |
| CT scan of the elbow (1 joint) | 1040 uah |
| CT scan of the lumbar spine | 1040 uah |
| CT scan of the paranasal sinuses | 1000 uah |
| CT scan of the pelvis | 1040 uah |
| CT scan of the urinary system | 1600 uah |
| CT soft tissues of the neck | 1100 uah |
| CT soft tissues of the neck with contrast | 2000 uah |
| Knee CT scan (1 joint) | 1040 uah |
| Radiology doctor's consultation (second opinion) | 570 uah |
| Snapshot | 150 uah |
| Whole body CT (brain, neck, chest, abdomen, pelvic organs) | 3700 uah |
| Whole body CT (brain, neck, chest, abdomen, pelvic organs) with contrast | 5400 uah |
The cost of doctor ct scan appointments in Dnepr
Address: Dnepr, D. Yavornytskoho av., 107a
ON Clinic Dnepr
We accept: Mon - Sat: 8:00- 20:00; Sun: 9:00-15:00