X-ray in Dnipro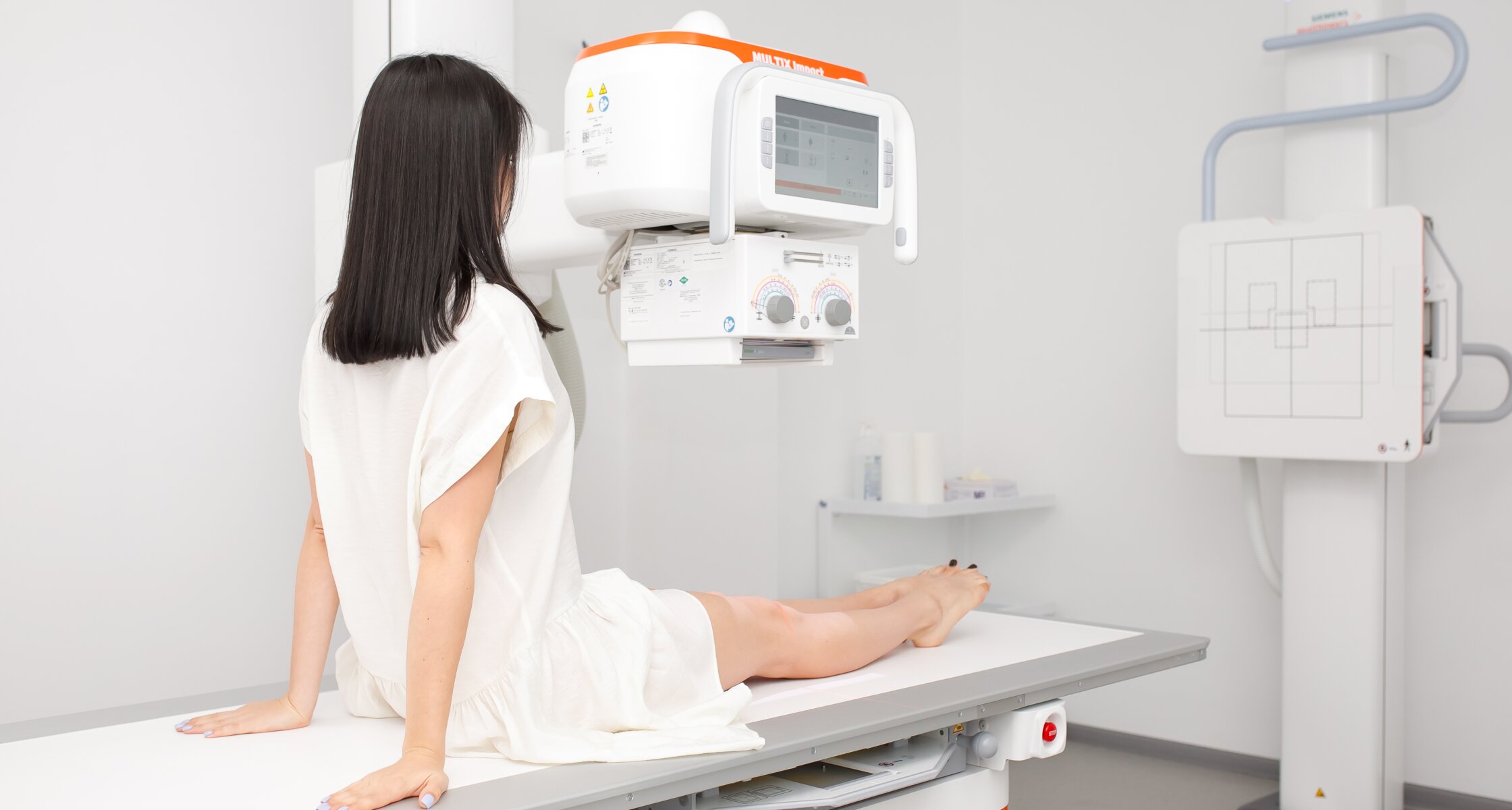 Radiography is an accessible and informative method for examining internal organs, soft tissues, joints and bones.
The main advantages of radiography are high accuracy (the slightest changes in the structure or size of the organ are visible on the radiographic image) and the minimum list of contraindications.
Services:
In most cases, radiography does not require preliminary preparation, and the examination result can be obtained immediately after its completion.
In what cases is radiography prescribed?
Radiography is prescribed for quick and accurate diagnostics of diseases of internal organs, soft tissue injuries, and bone fractures. X-ray allows the doctor to assess the degree and nature of the damage or structural changes in the organ (inflammation, presence of lumps, neoplasms), as well as to identify inflammation foci or latent bleeding.
Radiography of the lungs is prescribed to identify pathological processes in the respiratory organs and make an accurate diagnosis. Patients with suspected pneumonia (pulmonary fever) and symptoms of other pulmonary diseases are referred for testing.
Digital X-ray of the lungs differs from the traditional one by lower radiation exposure and increased image clarity. The examination result is not recorded on film, but processed by a computer program and recorded on a digital medium. A digital x-ray of the lungs, if indicated, can be prescribed by a doctor as a preventive examination.
Is an X-ray dangerous?
During an X-ray, a person receives a certain dose of radiation, but it is so small that it cannot harm health. But X-rays cannot be done often – excessive radiation exposure to the body can lead to negative consequences. Therefore, the maximum permissible dose of radiation per year has been established - 1–2 mSv. If it is not exceeded, X-ray examinations are safe for health.
In addition, modern X-ray machines provide high-definition images with minimal radiation exposure. Radiography is not dangerous if performed strictly by medical prescription. X-ray makes it possible to make the correct diagnosis and prescribe effective therapy, so it is more useful than harmful.
What organs can be X-rayed at "ON Clinic Dnipro"?
You can make an X-ray in Dnipro at the medical center "ON Clinic Dnipro". We perform X-ray examinations of the following:
head;
cervical region;
thoracic region;
lumbosacral region;
ribs;
joints;
spine;
hands and feet.
The examination is carried out on a digital X-ray machine of the latest generation MULTIX Impact Siemens. It is equipped with sensors that allow you to monitor the position of the patient's body during the procedure to obtain the most accurate image. Due to the low dose of radiation and the high speed of the examination, X-rays can be taken quickly and safely for health.
In some cases, a little preliminary preparation is required before taking an X-ray, therefore, a consultation with a radiologist is necessary. To make an appointment for an X-ray in Dnipro at the medical center "ON Clinic Dnipro", call the indicated phone number or leave a request on the website.
| | |
| --- | --- |
| Название | Цена |
| Ankle X-ray (2 projections) | 450 uah |
| Ankle X-ray (3 projections) | 530 uah |
| Chest X-ray (CT) (2 projections) | 590 uah |
| Chest X-ray (CT) (direct projection, overview image) | 380 uah |
| Chest X-ray (CT) (lateral projection) | 380 uah |
| Consultation with a radiologist (description of the images provided, second opinion) | 450 uah |
| Exercise lateral foot radiography | 480 uah |
| Foot X-ray in two projections with stress | 600 uah |
| Frontal projection of the shoulder joint | 380 uah |
| Functional radiography of the temporomandibular joints (with open and closed mouth) | 600 uah |
| Lateral calcaneus x-ray (- / -) | 350 uah |
| Lower leg X-ray (2 projections) | 450 uah |
| OGK digital fluorography (direct projection) | 380 uah |
| Plain X-ray of the abdominal cavity | 440 uah |
| Radiography of the first cervical vertebra (atlanta) | 380 uah |
| Radiography of the foot in two projections (if necessary with a load) | 450 uah |
| Radiography of the forefoot (targeted images in two projections) | 440 uah |
| Radiography of the pelvic bones, direct projection | 410 uah |
| Radiography of the wrist joint (2 projections) | 455 uah |
| Radiography of the wrist joint (3 projections) | 550 uah |
| Ribs X-ray (one side, oblique view) | 450 uah |
| Snapshot | 100 uah |
| X-ray examination of the gastrointestinal tract (pharynx, esophagus, stomach, small intestine), contrasting with barium | 800 uah |
| X-ray of feet in direct projection | 400 uah |
| X-ray of the bones of the cranial vault in 2 projections | 470 uah |
| X-ray of the bones of the facial skull | 440 uah |
| X-ray of the calcaneus in 2 projections (lateral and axial) | 460 uah |
| X-ray of the cervical spine in two projections | 470 uah |
| X-ray of the cervical spine with functional stress | 600 uah |
| X-ray of the coccyx in two projections | 500 uah |
| X-ray of the elbow joint in 2 projections | 450 uah |
| X-ray of the forearm in 2 projections | 530 uah |
| X-ray of the hand in one projection (two limbs) | 560 uah |
| X-ray of the hand in two projections (one limb) | 430 uah |
| X-ray of the hand in two projections (two limbs) | 800 uah |
| X-ray of the hip joint in frontal projection (if necessary in two) | 440 uah |
| X-ray of the hip joint in three projections | 500 uah |
| X-ray of the knee joint in 2 projections | 450 uah |
| X-ray of the knee joint in 3 projections (additionally axial or tunnel projection according to Frick) | 600 uah |
| X-ray of the knee joint in the 1st projection (2 limbs) | 600 uah |
| X-ray of the lumbosacral spine in two projections | 470 uah |
| X-ray of the lumbosacral spine in two projections with functional loads | 700 uah |
| X-ray of the mastoid process according to Schüller | 350 uah |
| X-ray of the nasal bones | 400 uah |
| X-ray of the paranasal sinuses | 370 uah |
| X-ray of the shoulder joint in 2 projections | 490 uah |
| X-ray of the skull in 2 projections | 470 uah |
| X-ray of the thigh and both adjacent joints (4 frames) | 660 uah |
| X-ray of the thigh in 2 projections | 470 uah |
| X-ray of the thoracic spine in two projections | 550 uah |
| X-ray of the Turkish saddle | 420 uah |
| X-ray of two hip joints in frontal projection | 440 uah |
The cost of doctor x-ray appointments in Dnepr
Address: Dnepr, D. Yavornytskoho av., 107a
ON Clinic Dnepr
We accept: Mon - Sat: 8:00- 20:00; Sun: 9:00-15:00