Pediatric X-ray in Kharkiv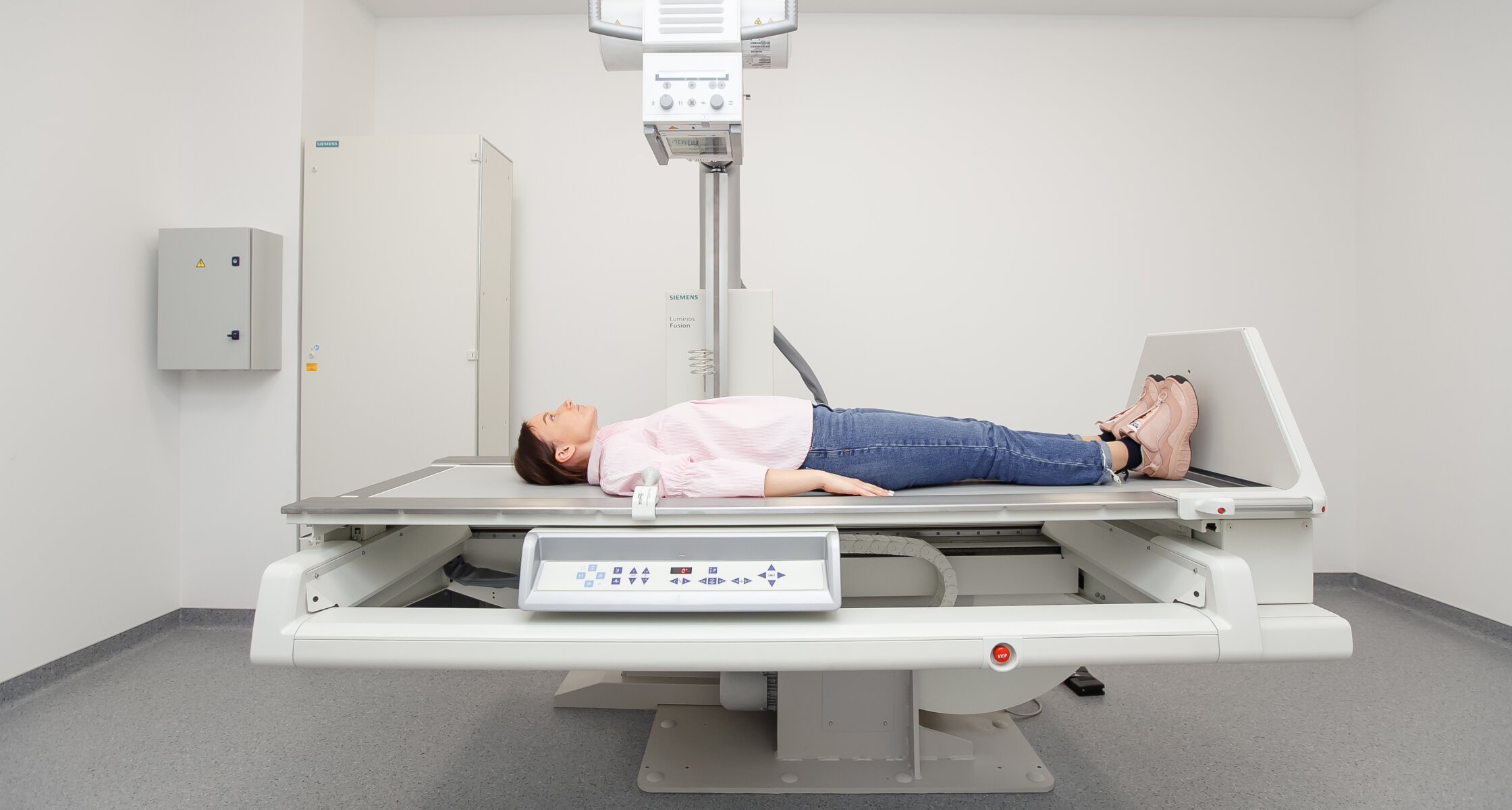 X-ray radiography is painless non-invasive examination method.
It allows to detect structural abnormalities, traumas, focuses of inflammation, internal hemorrhages and other pathologies of internals and musculoskeletal apparatus.
Main advantages of X-ray:
high precision and informativeness of results;
no special preparation in most cases;
minimum list of contra-indications.
Due to these advantages, X-ray radiography is prescribed to many patients irrelevant of their age, including the children.
When can doctor prescribe X-ray to a child?
Pediatric X-ray radiography is not performed for preventive purposes or general examinations, but by prescription of pediatrician in charge or another supervising specialist.
For instance, X-ray of child's lings is performed for diagnostics of the following diseases:
bronchitis;
pneumonia;
tuberculosis.
Images help to study the condition of pulmonary tissue, to detect focal points of infection, neoplasms, other structural abnormalities. In case of any alternative methods pf pathology diagnostics, the doctor will prescribe them. But in case of some diseases (for instance, pulmonary inflammation) – X-ray radiography is still the most informative examination.
X-ray effect on a child
X-ray radiography uses X-ray radiation in minimal doses safe for body. But overdosing can cause side effects, that is why this method is selected carefully and reasonably. Considering ever- changing technologies, new digital X-ray apparatuses help to provide the lowest radiation dose (minimum radiation) to a patient. While observing doctor's prescriptions, radiation has no effect on condition of well-being of children and cause no negative after-effects.
Medical centre "ON clinic" uses X-ray apparatus Luminos Fusion with the following advantages:
radiation exposure is decreased for 90% – sparing mode of image obtaining;
easy use – simple obtaining of X-ray images in different projections;
high definition and contrast of image.
What rules should be observed during child X-raying?
Children undergo X-ray in the presence of parents/foster parents. As children need to take different positions during examination, assistance of accompanying parent may be required so that he could help a child to stay still in the required position.
During examination, irradiation dose is low and safe both for children and for their accompanying persons. In order to protect examined parts of patient's body, special aprons are provided for a patient and for his parents/foster parents. The procedure has no other peculiarities, no special preparation is required. Exception: radiographic contrast study is performed in fasting state. The doctor assigning to examination will tell you about its procedure and need for preparation.
What is the minimum age of children for X-ray?
The procedure is assigned for children of any age, but only in case of indications and referral of pediatrician or another specialist in charge. X-ray radiography is not performed as preventive measures for children under 4. In case diagnostics can be performed by other methods (for instance, by means of ultrasonography), the doctor selects alternative variants.
Can children under one age take X-ray?
X-ray radiography is still one of the most efficient methods to learn the structure and functions of internals, that is why it is performed in case of diagnostics of newborns condition. Children under one year can undergo this procedure only in case the doctor considers this examination to be necessary. The doctor in charge agrees the referral for X-ray examination of children under one year directly with roentgenologist in order to determine efficiency and practicability of examination. For newborns it is performed in very rare cases, for instance in case of difficult delivery and birth traumas.
How many times can children undergo X-ray examination?
X-ray examinations are performed only if prescribed by doctor in charge. There is no limitation as such, but if doctor needs to establish diagnosis and determine patient's treatment modality, for example in case of diseases: pneumonia, osteogenesis imperfection (determination of bone age), dysplasia, traumas, and if X-ray examination is required for diagnosis establishment – then examination is performed as many times as necessary.
Regardless of the patient's age, X-ray radiography shall be assigned by pediatrician or another doctor. The procedure is performed only in case of serious indications.
The basic rule is that efficiency of examination and obtained data would justify their practicability. Examination practicability is assessed in each particular case by rentgologist individually.
Where to find x-ray examination for a child in Kharkiv?
You can register for X-ray radiography in Kharkiv at medical centre "ON Clinic Kharkiv".
Qualified doctors and roentgenologists specializing on the treatment of pediatric diseases work at our pediatric department. During the procedure, modern close control equipment is used allowing to obtain distinct images with minimum radiation dose. You can register for examination by calling on contact phone number.
| | |
| --- | --- |
| Название | Цена |
| Chest X-ray (OGC) (digital fluorography) | 300 uah |
| Chest fluoroscopy (CT) | 350 uah |
| Chest X-ray (CT) (lateral projection) | 300 uah |
| Consultation with a radiologist (description of the images provided, second opinion) | 410 uah |
| ONLINE Consultation with a radiologist (description of the presented images, second opinion) | 410 uah |
| X-ray of the hip joint in three projections | 490 uah |
| X-ray of the cervical spine in two projections | 550 uah |
| X-ray of the hand in two projections (two limbs) | 690 uah |
| X-ray examination of the colon (irrigoscopy), barium contrast | 1560 uah |
| X-ray examination of the gastrointestinal tract (pharynx, esophagus, stomach, small intestine), contrasting with barium | 805 uah |
| X-ray examination of the gastrointestinal tract (pharynx, esophagus, stomach, small intestine), water-soluble contrast fluid | 1560 uah |
| Radiography of the first cervical vertebra (atlanta) | 300 uah |
| Radiography of the wrist joint (2 projections) | 420 uah |
| X-ray of the bones of the cranial vault in 2 projections | 495 uah |
| X-ray of the nasal bones | 420 uah |
| X-ray of the Turkish saddle | 270 uah |
| Plain X-ray of the abdominal cavity | 300 uah |
| X-ray of the thoracic spine in two projections | 550 uah |
| X-ray of two hip joints in frontal projection | 410 uah |
| X-ray of the hand in two projections (one limb) | 420 uah |
| X-ray of the knee joint in 2 projections | 420 uah |
| X-ray of the elbow joint in 2 projections | 375 uah |
| X-ray of the coccyx in two projections | 410 uah |
| Radiography of the pelvic bones, direct projection | 380 uah |
| Frontal projection of the shoulder joint | 285 uah |
| X-ray of the lumbosacral spine in two projections | 550 uah |
| X-ray of the lumbosacral spine in two projections with functional loads | 680 uah |
| X-ray of the paranasal sinuses | 300 uah |
| X-ray of the hip joint in frontal projection (if necessary in two) | 350 uah |
| Ribs X-ray (one side, oblique view) | 350 uah |
| X-ray of the thigh and both adjacent joints (4 frames) | 490 uah |
| X-ray of the thigh in 2 projections | 420 uah |
| Lower leg X-ray (2 projections) | 420 uah |
| Ankle X-ray (2 projections) | 420 uah |
| Ankle X-ray (3 projections) | 490 uah |
| X-ray of the knee joint in 3 projections (additionally axial or tunnel projection according to Frick) | 490 uah |
| X-ray of the bones of the facial skull | 270 uah |
| Lateral calcaneus x-ray (- / -) | 270 uah |
| X-ray of the cervical spine with functional stress | 600 uah |
| X-ray of the skull in 2 projections | 285 uah |
| Metrosalpingography (hysterosalpingography), water-soluble contrast fluid | 3055 uah |
| ONLINE Consultation with a radiologist (description of the images provided, second opinion) abroad | 410 uah |
| Snapshot | 60 uah |
| Fistulography (minimum 2 frames) | 1690 uah |
The cost of doctor x-ray appointments in Kharkiv